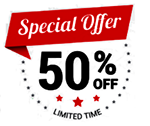 Get a FREE DV SSL Certificate worth ₹ 1,495, with every domain hosted with us! The SSL Certificate whall be renewed FREE of Cost every year as long as your domain continues to be hosted with Mumbai Hosting.
Get an additional 50% Off Today on the standard hosting price for the 1st Year. MHLTD50 Coupon Needed. This is a Limited Time Offer and can be withdrawn without any notice.
50% DISCOUNT PROMOTION COUPON CODE : MHLTD50
GOLD +PLUS+
Gold +Plus+ Hosting Plan with 4 GB DiskSpace, 15 eMail accounts, Free MySQL Databases and Softaculous Script installer: Our PHP/MySQL Website Hosting GOLD Plan comes with free domain name registration in India and at a low-cost price. It is ideal for individuals and businesses to host their dynamic and interactive website designs.
Softaculous script installer is a robust and easy-to-use auto-installer, used by customers of managed web hosting to automatically build websites and install web-based software and applications, such as WordPress, Drupal, Joomla and OpenCart. It provides automated installation support for 100+ scripts, and is continuously growing that number.
Our web hosting control panel (CPANEL) is web-based, allowing you convenient access to your accounts through a simple interface, and allows you to control everything from adding / removing email accounts to administering MySQL databases in real time.
PLAN FEATURES
List Price: ₹ 5,390 - 50% Special Discount + SSL ₹ 1,495 You Save: ₹ 4,190
Disk Space - 4

 GB

E-mail Accounts -

15

Free SSL Certificate (Worth ₹ 1495)
Bandwidth -

10 GB /month

MySQL Databases -

10

Roundcube / Horde Webmail control panels
Check your mails wherever, whenever
24 hours FTP Access
99.99% server uptime guarantee
GST as applicable on all Shared Hosting Plans.